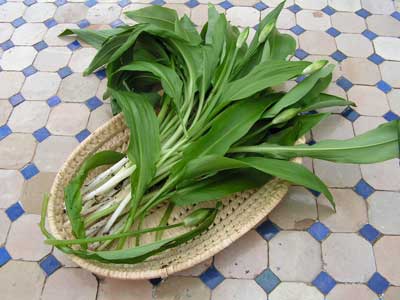 L'ail des ours
Isn't that a cute name - Bears' garlic? Not to be confused with Lily of the Valley which is similar but toxic! I'd never heard of it until I came across a recipe for asparagus gratin. It grows in woods apparently but I would never dream of hunting for it in the wild. Not having being raised a child of nature, I prefer my food bought in a bag with a label ta. I don't go mushrooming either as I wouldn't trust myself not to pick the only toxic mush in the forest!
Anyway, I bought a bunch of purple (tinted) asparagus in the supermarket the other day, it being French and the thin green-stalked bunches next to it (at half the price) Spanish. I have nothing against the Spanish but I try and buy local and support the French suppliers whenever I can. They have a hard time competing with the cut price stuff that floods in across the border although in fact there's no competition when it comes to taste. Still, buying seasonal and local is sometimes a luxury!
The other reason for splashing out is that the boys are with their dad so what I didn't spend on chocolate, biscuits, Nutella, and kids' cereal (and the rest) I spent on expensive French asparagus and other tasty bits and bobs like superior
lait cru camembert
and a large pack of Heineken (on special offer...).
So, have asparagus, will cook, but how? I normally steam asparagus and eat it with a main dish, or do asparagus risotto, but as my bunch is mainly white I'm reluctant to create an anaemic-looking dish of cream-coloured bits. Plus, I felt the need to try something new, so turned to my favourite recipe site: BBC Good Food.
A disappointing 4 pages later of vegetarian asparagus dishes, my dearly beloved having annoyingly turned veggie last year, I thought I'd try the French sites. The BBC's recipes were all for green asparagus and seemed to be variations on risotto, tarts or salads. One exception was for Thai pancakes stuffed with (green) asparagus and egg which sounded yummy but I don't have any limes or spring onions and as I don't go shopping half way through the week, I have to make do. This keeps shopping time and costs down. It also involved quite a lot of work.
Back on Google, I found a list of white asparagus recipe sites and started working my way through them. The sites didn't offer a filter for vegetarian recipes as vegetarians are considered as an eccentric minority in France, so I just had to bite the bullet and read each one. There were recipes with delicate sauces you had to cook over a bain marie, one recipe that cooked asparagus in an almond and parmesan crust, a soufflé, a soup and an espuma. Doesn't that all sound like hard work to you?
Back to the drawing board, and eventually I found
Gratin d'Asperges Blanches
. Basically all you do is steam the asparagus until they are almost done, then whisk some cream and mix with a couple of eggs. Season this with cayenne pepper, lemon juice and the
ail des ours
and chuck it in the oven for 10 minutes or so. I have never seen
ail des ours
for sale but apparently it's a member of the chives family so as my chives are one of the few things left growing in my garden after the super hard Winter freeze killed everything else, I can use them. The recipe called for basil as an alternative but I don't have any of that fresh either. No, it'll have to be chives and parsley. Serve it with parma ham unless you are a veggie in which case don't.
Verdict: I think would have preferred it simply steamed and served with melted butter and a squeeze of lemon juice. It was okay, the asparagus was okay, but it wasn't great. I won't be splashing out on the pinky white stuff again. As a gratin, the eggy mixture was reminiscent of a quiche filling so something of a failure in my book, but it tasted okay. Maybe it really did need the
ail des ours
...