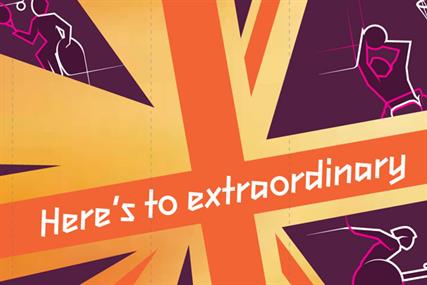 Sainsbury's, sponsors of the Paralympics
A month ago I was glued to London 2012 Olympic Games. I totally entered into the spirit of it all and loved watching it - the highs, the lows, the successes and the failures. It was brilliant, and provided a roller coaster of emotions over two weeks.
Would I be as enthused by the Paralympic Games, I wondered. I have never watched them before. France Television doesn't televise Paralympic Games and four years ago there was little buzz from Beijing. London, however, has gone Paralympics mad, and I for one am just blown away by it.
I've been glued to Sky and Channel 4's website (by hiding my IP address...) to the dismay of my sons who were hoping for floor to ceiling control of the television for their XBox. Bad luck, guys, mum's obsessed.
Of course I know nothing about disabled sport, but Channel 4's coverage has been excellent. Putting on a whole selection of new faces to do the commenting, both able-bodied and disabled was a brilliant idea and has proved to be highly entertaining. The Lexi which provides information on what the classifications mean is also excellent and a big help in understanding who does what.
The biggest revelation for me though has been the action. From knowing nothing, I now realise just how serious Paralympic sport is, with athletes training to get to the top of their game every day come rain or shine, with blood, sweat and tears. The result of the tremendous amount of work is a competition that is so exciting it blows your mind, between athletes from around the world who compete at top level sport.
If you haven't tuned in this week, I strongly recommend you do so. You've missed the cycling which was often edge of the seat nail biting stuff, and Ellie Simmonds' stunning win and emotional interview from the weekend (which you may have caught on the news) and which left not a dry eye in the house/office of anyone who saw it.
What I noticed too is that after being infused with Paralympic sport over a number of days, you cease to see it as disabled sport but as sport. It's different from the Olympic Games, but then so are winter sports. You get the winter Olympics and summer Olympics and Paralympics, and for each one you see great sporting achievements from amazing athletes.
What is special about the Paralympics is the stories behind the athletes. As they said on The Last Leg (with Adam Hills) last night, go up to any Paralympian and ask them about their background and you'll get a great story. They have all had to overcome so much to achieve excellence and that adds to the significance of the event. The programme also comes out with a whole bunch of silly stuff like asking for tweets on #isitoktoask, the daily challenge (last night it was power lifting, Jimmy Carr had to lift light weights and failed) and general banter from the presenters. There's an amicable challenge to see who gets the most medals between TeamGB and the Australians on a daily basis leading to bragging and teasing, and they have got behind the Go Go Go Get It team from Ghana with its four members.
I am definitely a convert and my thanks go to Channel 4 for rising to the challenge of televising the Paralympic games and doing a fantastic job, and for showing that being a Paralympian athlete is cool whatever the impairment.