While some people are bemoaning the demise of the ready meal, forcing reluctant parents to consider the prospect of actually cooking real food for their kids, I have found myself spending even more time in the kitchen than usual. I do like to cook, I like to eat well, and I hate industrial food (except nems), so I have no problem at all putting on my pinny (metaphorically, who wears a pinny nowadays?) and getting stuck in, usually for around half an hour to an hour max on week days.
I would normally leave long-winded cooking to the weekend, but I have been known to get a mindless bee in my cook's bonnet and won't give up until stung.
So this week saw me coming home from work on Tuesday, for example at just gone 5pm, make the dough for flat-breads, slice up 4 turkey breasts for goujons, chuck them into a marinade, do a taxi run, roll out 16 flat breads thinly, start dry-frying them (a couple of minutes each), do another taxi run, finish cooking breads, take out marinated turkey, dip in egg and dukkah/breadcrumbs and start frying in small batches.
Mine did look something like this!
Talk about time-consuming. I totally miscalculated the time it would take. In the end, I got everyone involved from my youngest doing the washing up to my eldest cutting up salad stuff for the wraps so we could eat just after 8pm! Three sodding hours!! (Minus one hour or so taxiing) but the turkey goujon wraps were yummy, the dukkah giving the meat a delicious nutty, spicy crunch.
Not having learned my lesson, yesterday I had the brilliant idea of making samosas. It would have been fine, had my DB not wanted veggie ones rather than the pork ones I was making for the rest of us. It would also have been fine had not my mincer decided it was a piece of crap and mincing pork was above its price grade. This meant I had to scrape all the squishy bits out of the machine and throw them in the food processor instead. Time, it all takes time!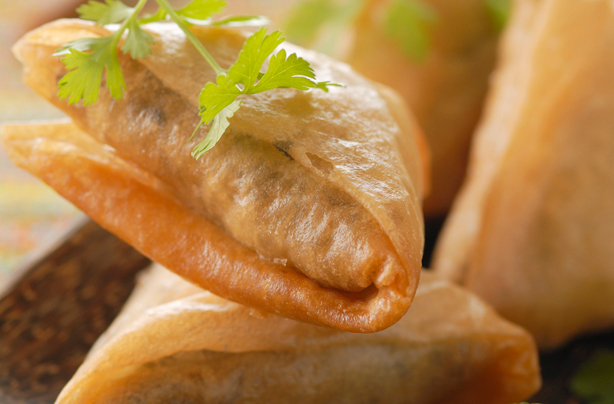 Mine looked a teeny bit like this, just add black bits and general untidiness
I am throwing out my measly mincer (bought from low-cost store Norma). My cleaner had first refusal, and refused, can't blame her... Enough is enough!
So then I made the pork filling (
recipe
) with potato, onion, carrots, frozen peas and mild curry paste (I wimped out of grinding and roasting my own spices), and turned my attention to the Hairy Bikers'
veggie filling
- onion, garlic, garam masala, mustard seeds, turmeric, potato, carrot, frozen peas, curry leaves, parsley (as the plastic bag of fresh coriander that had been lurking in the fridge, possibly for weeks, produced a selection of rotten black soggy stems and leaves... mmm tempting...).
Once done, the fillings had to be added to the samosa circles which I did NOT make, and the intelligence test of how to fold the little sods. I've never been terribly good at geometry so I ended up with a bit of a mess, but miraculously they all held together when they hit the hot oil, all 13 of them, in small batches. It's the cooking in small batches that takes up so much time, isn't it, but by then I'd run out of large frying pans and had to use the wok.
Everything tasted lovely, but it damn well should have done the effort and time it took to make. I won't be getting stung like that again for a while. I'll stick to my slow cooker and a roast chicken this weekend I think. Nice hands-off cooking!
Guess what we're eating tonight? LEFTOVERS! YAY!!
Do you do things
à l'envers
too? Like busy cooking on week days, cool cooking at weekends?