How far would you go to change your eating habits for health reasons?
I was reading about a man recently who became a fruitarian. He was already following the Okinawa diet which is high in anti-oxidants, low in fat and sugar, no meat, eggs, or dairy but high in vegetables with some soya and fish but decided to follow the advice of
Douglas Graham
, long time food guru, athlete and creator of the 80/10/10 diet. This involves eating 80% of calories from ripe fruit (carbohydrates), 10% from fat and 10% from protein.
Once on the diet, the writer found himself enjoying incredible energy and superior physical performance in sport. He felt fantastic. As time went on, however, he discovered some down sides including moments of inexplicable anxiety, emotional fragility and jitters. There was another problem too, which his wife didn't appreciate...
I remember seeing an episode of
Castle
(starring Nathan Fillion as Richard Castle) where his daughter Alexis gets herself a fruitarian boyfriend - Pi. Richard, being a protective father, was not keen on Pi, and kept up a low level of hostility towards him until Alexis felt forced to move out and set up home in a grotty flat with him. However, Richard need not have worried about Pi's physical attentions towards his daughter as, from what I read about being a fruitarian, Pi would have had the libido of a tomato!
Changing to fruitarianism and become a social pariah? Not for me thanks.
On the other hand, I'm interested in anything that will keep osteoarthritis at bay, and it seems that the Chinese, with their 3000 years of medical expertise, have some advice worth reading.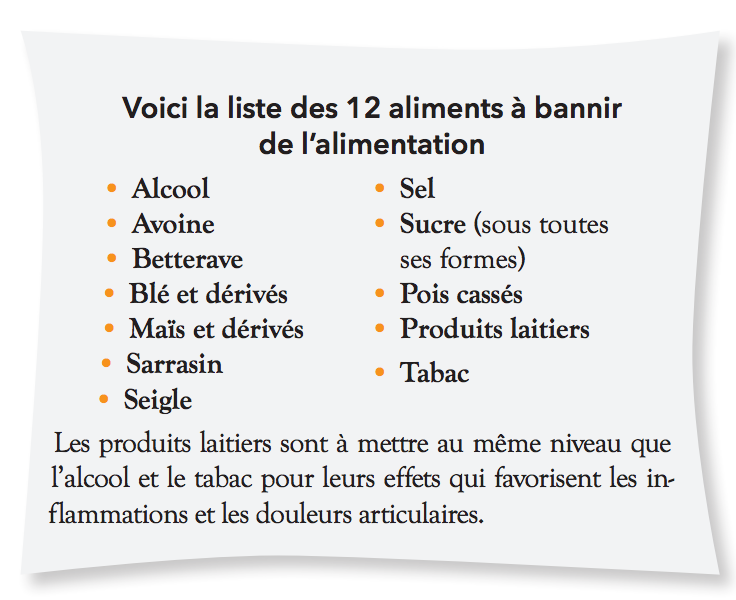 Foods to ban from your diet if you suffer from joint pain
You'll see from the above that all wheat and wheat derivatives are banned, as are dairy products, alcohol, sugar and tobacco. Also on the list are oats, beetroot, corn, buckwheat, rye, split peas and salt. The problem with all these foods is that they promote inflammation which leads to joint pain.
But diet is only one part of the problem. To be free of joint pain you also need to draw on the right herbal medicine, acupuncture,
Qigong
, massages, and
ventouses
(suckers). According to Chinese medicine, whatever the type of joint pain (arthritis, rheumatoid arthritis, micro-crystalline arthritis), whether it's in your knees, wrists, elbows, hips, back or neck, it's the result of painful obstructions due to cold, wind and humidity. This means your Qi (inner energy) and Yin-Yang balance are unbalanced in favour of the cold, wind and humidity due to certain accidents, your emotions, food and bad posture.
The Qigong exercises recommended are called Lian Gong Shi Ba Fa - 18 movements to be done in the morning after a cup of tea but before breakfast:
I haven't managed to work them into my morning regime yet, mainly because I'm too lazy to get up that early, but also because I don't have room in my bedroom, although you're supposed to do them outside...! It's getting a bit chilly for that too.
However, I am taking some notice of the diet demands. Banning all twelve foodstuffs from my life is a bit excessive so I've decided to take the Option for Wimps: no alcohol during the week, no wheat unless I'm out (it's tough to avoid bread when eating out - no sarnies, no tarts, etc.), no dairy most of the time, no sugar (I suppose this doesn't include fruit) and no buckwheat as soon as I've finished the packet of flour I use for my gluten-free bread. I'll use fonio after that. I don't smoke, so that's no problem, and I can cut the other things out without too much trouble, except salt. I can't cook without salt even if I don't use much.
I'm sure there's an opportunity somewhere for someone to develop the Chinese Medicine Anti Joint Pain diet and gather recipes into one place instead of us trawling the Internet searching for ones which fit.
Do you eat with your health in mind too?