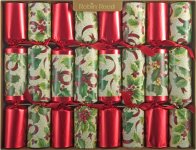 I was in town again yesterday afternoon. A very different experience from last week. I went primarily in search of
crackers
as I'm to spend Christmas with my TWDB's family and they, being French, don't know what crackers are. I intend to enlighten them.
Luckily, the only ones I could find were pretty tacky with those classic cracker gifts of curly fish, necklace, kazoo, and spinning top. Sense of humour and an appreciation of the silly are requisite to enjoying crackers so I'm not sure how well they'll go down, but at least I'll be getting things off to a conversational start, and they'll see that us Brits don't stand on ceremony.
I thought I might take some mince pies and a Christmas pud too. Generally speaking, the French don't like either, although my TWDB definitely likes Christmas pud, which will mean lots more for me unless his family appreciates exotic tastes.
I was told on the phone by the kind lady in the
English Corner Shop
that they didn't have crackers but
Le Bookshop
did, which saved me a good bit of walking. I have to admit, I've never been in either shop. I don't go into town unless it's for an appointment, and I never hang about so I don't really go mooching around the centre. I was pleased to discover this cosy book-stuffed shop which also does teas and cakes that you can enjoy from the depths of comfy armchairs.
However, true to form, I didn't have time to stop and linger, so popped out with my crackers and back into the heaving throngs of rue de la Loge. It was a black sea of human movement; anything provoking a mass panic would have been disastrous, which I tried not to think about (but kept seeing in my mind screaming faces, terror and strewn bodies).
Even busier was place de la Comedie which I hurried through to get to Polygone for a little shopping in The Body Shop. There, surprisingly, all was peaceful and quiet. It used to be that you could barely move in The Body Shop around Christmas because everyone was buying pressies there. Walking in was like entering a sweet shop with garish colours everywhere. Who is such décor meant to attract? Their prices are too high for young people, but the interior design is off-putting for older shoppers. Maybe this is why it was so quiet two Saturdays before Christmas. There was something else bizarre too. When I was buying my gifts, the salesgirl told me they were giving away fat pots of orange seed body cream and popped one in a bag. Why? Was no one buying it? Was it a special offer I didn't know about? I didn't really understand why they were doing that, unless it was a sign of desperation. Is The Body Shop in trouble?
Anyway, that was my shopping finished and all I had to do was fight my way back through the crowds to the tramway.
Today I put up some decorations. As we won't be here for Christmas or New Year I haven't bought a tree, so it's been lights up the bannisters and around the piano. The
nativity figures
my youngest painted a few years ago are in their stable too, but that's it. Pretty low key, but enough for effect. My TWDB's idea of Christmas decoration in his
salon
was his BMW bike. Without fairy lights though. Takes up a lot of room, doesn't it?
What's the most bizarre Christmas decoration you've seen?